Combination of caudal epidural steroids with oral gabapentin for radicular low back pain: a prospective observational study
Grisuna Singh

Nepalgunj Medical College

Binod Thapa

Western Hospital

Kiran Gurung

Bheri Zonal Hospital

Nirmal Kumar Gyawali

Western Hospital
Keywords:
Caudal Epidural Steroid, Gabapentin, Numerical Rating Scale (NRS), Oswestry Disability Index, Radicular Low Back Pain, Straight Leg Raising Test
Abstract
Introduction: The physical, socioeconomic and psychological burden of low back pain is enormous.The poor socioeconomic condition and geographical constrains confines people to limited health facilities. The objective of the study was to evaluate whether combination of caudal epidural steroids with local anaesthetics and gabapentin is effective for radicular low back pain in the rural Nepal setting.
Methods: It was a prospective observational study including 300 patients with radicular low back pain done over a period of 6 months (13/4/2016 to 30/10/2016). All participants received caudal epidural steroid injection (6ml 2% Xylocaine with adrenaline plus Depomedroxy steroid 80mg plus 12 ml distilled water) and 200 mg gabapentin daily for three months. All patients were followed up for three months and were evaluated.
Results: Mean age of presentation was 41.21 years (SD +_ 11.02) with majority of farmers (42.31%).  Mean Numerical Rating Scale at the baseline was 8.01(SD+_1.00) and at the first follow up was 3.98 (SD+_0.83) (p <0.001). Mean Oswestry Disability Index at baseline was7.85 (SD+_0.98) and at the first follow up was 4.04 (SD+_0.80) (p <0.001). Straight Leg Raising Test at baseline was less than 70° in 84.7% which improved to more than 70° in 87.9% of the patients (p-value <0.001).
Conclusion: Caudal epidural steroids combined with gabapentin is safe, economical and technically less demanding. This treatment modality can be used with good outcomes in the rural areas with limited diagnostic and therapeutic facilities.
References
Grice GR, Mertens MK. Gabapentin as a potential option for treatment of sciatica. Pharmacotherapy. 2008 Mar; 28(3):397-402. https://doi.org/10.1592/phco.28.3.397
Bhattarai B. Anaesthesia in outreach surgical camps: more of arts than science. Journal of Society of Anesthesiologists of Nepal. 2016 Mar 20;3(1):2-7. https://doi.org/10.3126/jsan.v3i1.14654
Sharma A, Bhattarai B. Autologous blood transfusion in surgical outreach camp. Journal of Society of Anesthesiologists of Nepal. 2015 Oct 1;2(1):28-30. https://doi.org/10.3126/jsan.v2i1.13555
Maity A, Mondal BC, Sinhs D. A prospective randomized, double-blind, controlled clinical trial comparing epidural butorphanol plus corticosteroid with corticosteroid alone for sciatica due to herniated nucleus pulposus. Perspect Clin Res. 2012 Jan –March; 3(1):16-21. https://doi.org/10.4103/2229-3485.92302 PMid:22347697 PMCid:PMC3275988
Manchikanti L, Abdi S, Atluri S, Benyamin RM, Boswell MV, Buenaventura RM, et al. An update of comprehensive evidence based guidelines for interventional techniques in chronic spinal pain. Part II: guidance and recommendations. Pain Physician. 2013 Apr;16(2 Suppl):S49- S283. PMid:23615883
Strong JA, Xie W, Bataille FJ, Zhang JM. Preclinical studies of Low Back Pain. Molecular Pain 2013;9:17. https://doi.org/10.1186/1744-8069-9-17 PMid:23537369 PMCid:PMC3617092
McCleane GJ. Does gabapentin have an analgesic effect on background, movement and referred pain? A randomized, double-blind, placebo controlled study. Pain Clinic. 2001;13:103-7. https://doi.org/10.1163/156856901753420945
Yildirim K, Sisecioglu M, Karatay S, Erdal A, Levent A, Ugur M, et al. The effectiveness of gabapentin in patients with chronic radiculopathy. Pain Clinic 2003;15:213-8. https://doi.org/10.1163/156856903767650718
Rosner B. Fundamentals of Biostatistics. 4th ed. Duxbury Press; 1995. Page 221.
Fairbank JCT, Pynsent PB. The Oswestry Disability Index. Spine 2000; 25: 2940-53. https://doi.org/10.1097/00007632-200011150-00017
Speed C. Low Back Pain. BMJ 2004; 328(7448):1119. https://doi.org/10.1136/bmj.328.7448.1119 PMid:15130982 PMCid:PMC406328
Kuslich SD, Ulstrom CL, Michael CJ. The tissue origin of low back pain and sciatica: A report of pain response to tissue stimulation during operation on the lumbar spine using local anesthesia. Orthop Clin North Am 1991; 22:181-187. PMid:1826546
Mixter WJ, Barr JS. Rupture of the intervertebral disc with involvement of the spinal canal. N Eng J Med 1934; 211:210-215. https://doi.org/10.1056/NEJM193408022110506
Mixter WJ, Ayers JB. Herniation or rupture of the intervertebral disc into the spinal canal. N Engl J Med 1935;213:385-395. https://doi.org/10.1056/NEJM193508292130901
Pang WW, Mok MS, Lin ML, Chang DP, Hwang MH. Application of spinal pain mapping in the diagnosis of low back pain—analysis of 104 cases. Acta Anaesthesiol Sin 1998; 36:71-74. PMid:9816715
Manchikanti L, Singh V, Pampati V, Damron K, Barnhill R, Beyer C, Cash K. Evaluation of the relative contributions of various structures in chronic low back pain. Pain Physician 2001; 4:308-316. PMid:16902676
Wheeler AH, Murrey DB. Chronic lumbar spine and radicular pain: Pathophysiology and treatment. Curr Pain Headache Rep 2002; 6:97-105. https://doi.org/10.1007/s11916-002-0005-x
McCarron RF, Wimpee MW, Hudkins PG, Laros GS. The inflammatory effects of nucleus pulposus: A possible element in the pathogenesis of low back pain. Spine 1987; 12:760-764. https://doi.org/10.1097/00007632-198710000-00009 PMid:2961088
Yamashita M, Ohtori S, Koshi T, Inoue G, Yamauchi K, Suzuki M, Takahashi K. Tumor necrosis factor-alpha in the nucleus pulposus mediates radicular pain, but not increase of inflammatory peptide, associated with nerve damage in mice. Spine 2008; 33:1836-1842. https://doi.org/10.1097/BRS.0b013e31817bab2a PMid:18670336
Homma Y, Brull SJ, Zhang JM. A comparison of chronic pain behavior following local application of tumor necrosis factor alpha to the normal and mechanically compressed lumbar ganglia in the rat. Pain 2002; 95:239-246. https://doi.org/10.1016/S0304-3959(01)00404-3
Sicard MA. Les injections medicamenteuse extradurales par voie saracoccygiene. Comptes Renues des Seances de la Societe de Biologie et de ses Filliales (Paris) 1901; 53:396.
Chou R, Qaseem A, Snow V, Casey D, Cross JT, Shekelle P, et al. Diagnosis and treatment of low back pain: a joint clinical practice guideline from the American College of Physicians and the American Pain Society. Annals of internal medicine. 2007 Oct 2;147(7):478-91.
Cohen SP, Hanling S, Bicket MC, White RL, Veizi E, Kurihara C, et al. Epidural steroid injection compared with gabapentin for lumbosacral radicular pain; multicentre randomized double blind comparative efficacy study. BMJ 2015;350:h1748. https://doi.org/10.1136/bmj.h1748 PMid:25883095 PMCid:PMC4410617
Pathak L, Chaturvedi A. Effect of gabapentin premedication on preoperative anxiety and postoperative pain. Health Renaissance. 2013;11(3):254-9.
Murakibhavi VG, Khemaka AG. Caudal epidural steroid injection: a randomized controlled trail. Evid Based Spine Care J.2011 Nov;2(4):19-26. https://doi.org/10.1055/s-0031-1274753
Rosenberg SK, Grabinsky A, Kooser C, Boswell MV. Effectiveness of Transforaminal Epidural Steroid Injection in Low Back Pain: A one year experience.Pain Physician 2002 November;5:266-70. PMid:16902652
Dilke TF, Burry HC, Grahame R. Extradural corticosteroid injection in the management of lumbar nerve root compression. BMJ 1973;2:635-7. https://doi.org/10.1136/bmj.2.5867.635 PMid:4577015
Deville WL, vander Windt DA, Dzaferagic A, Bezemer PD, Bouter LM. The Test of Lasagur: Systematic review of the accuracy in diagnosing herniated discs. Spine25(9):1140-7.
Ridley MG, Kingsley GH, Gibson T, Grahame C. Outpatient lumbar corticosteroid injection in the management of sciatica. Br J Rheumatol 1983;27:295-9. https://doi.org/10.1093/rheumatology/27.4.295
Khosravi MB, Azemati S, Sahmeddini MA. Gabapentin versus Naproxen in the management of failed back surgery syndrome; A randomized Controlled trail. Acta Anaesthesiol Belg. 2014;65(1):31-7. PMid:24988825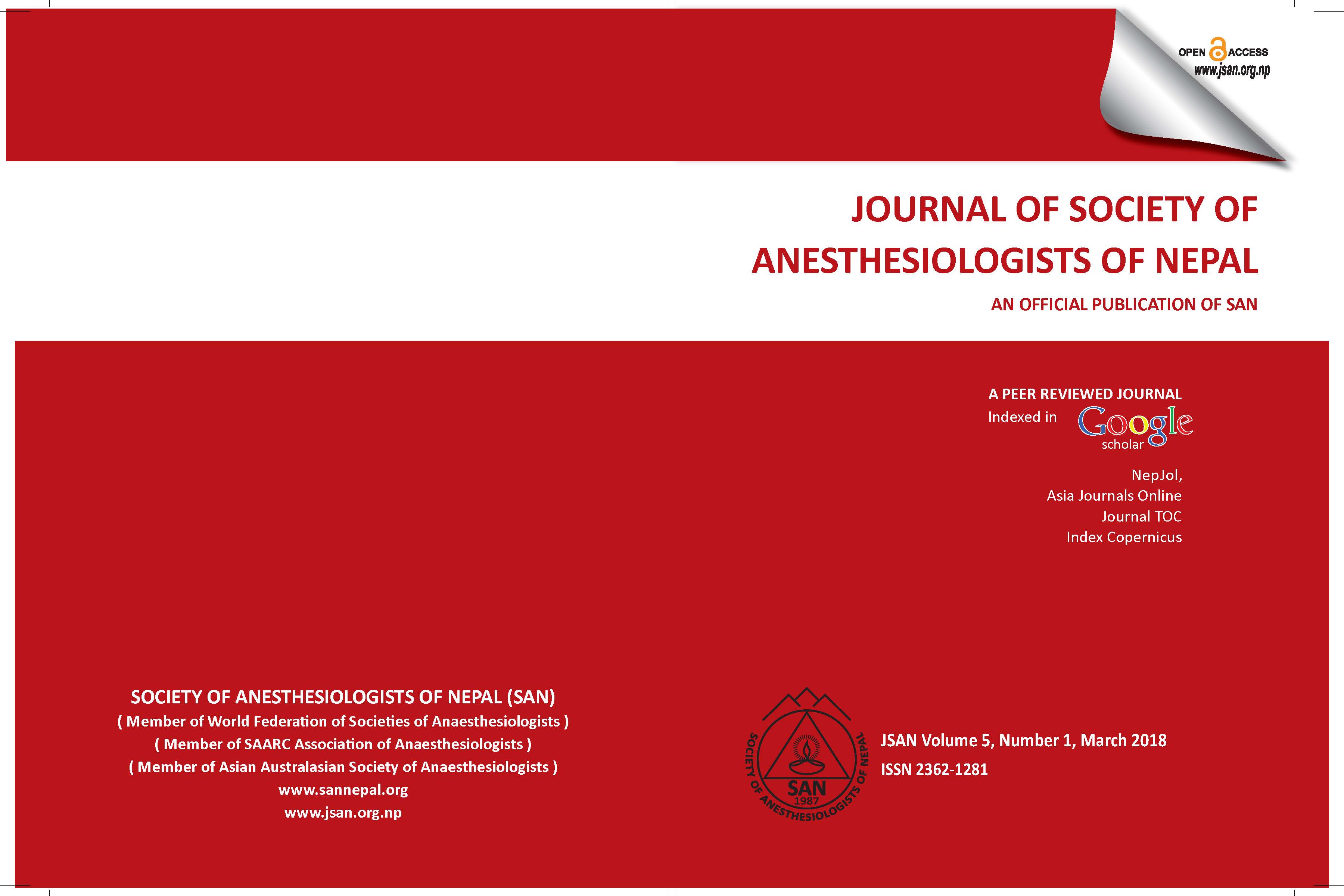 How to Cite
Singh, G., Thapa, B., Gurung, K., & Gyawali, N. (2019). Combination of caudal epidural steroids with oral gabapentin for radicular low back pain: a prospective observational study. Journal of Society of Anesthesiologists of Nepal, 5(1), 5-10. https://doi.org/10.3126/jsan.v5i1.23211
Copyright (c) 2019 Grisuna Singh, Binod Thapa, Kiran Gurung, Nirmal Kumar Gyawali
This work is licensed under a Creative Commons Attribution 4.0 International License.
Authors retain copyright and grant the journal right of first publication with the work simultaneously licensed under a Creative Commons Attribution License (CC BY-4.0) that allows others to share the work with an acknowledgement of the work's authorship and initial publication in this journal.